Here we are, a little more than 13 hours left to turn in our videogame project for the Nordic Game Jam 2011, and we still have SO MANY THINGS TO DO! (Mind you, I'm writing this during a small break, after all it's impossible to work 48 hours straight!).
So how is this going? Let's go back in time a little bit first:
On Friday, January 28th the Nordic Game Jam officially started with several talks by gaming industry professionals like on various topics (especially interesting the Indie Track, with talks from indie developers and a showcase of indie games made in Scandinavia).
It was later during the evening when we were set to meet the different participants, get to know them, and decide who we would like to work with for the following 48 hours. Some people chose to work with friends they already knew, I decided to settle with some guys I had never met before. That always keeps things interesting, whether for good or bad. We're still nowhere close to finishing the game, but so far I can say that it was the right choice.
So, who are we? We… don't have a group name yet, but that'll come in less than 13 hours.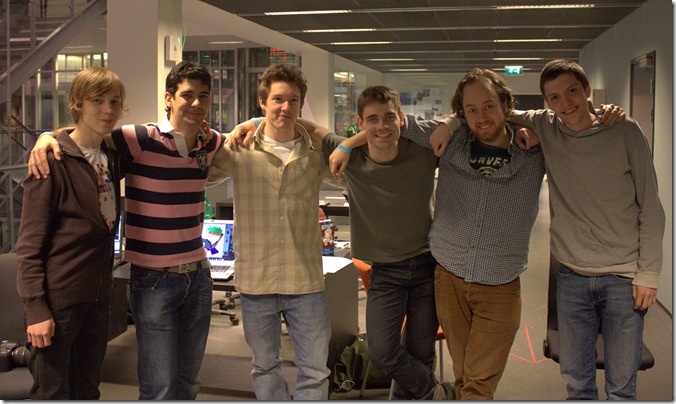 From left to right, Olli (Finland), Anchel (Spain), Thomas, Henrik, Kristian and Theis (Denmark)
And what's our game about? Well, the world is about to lose the only thing left that is keeping everyone together: music! And that's all thanks to the evil Dustin Lieber, a pop singer who is causing world chaos by destroying the beauty of music variety.
Now it's all up to our main character, the rock star Beat! He will have to travel through the different game levels keeping the rhythm going to prevent the music from becoming extinct.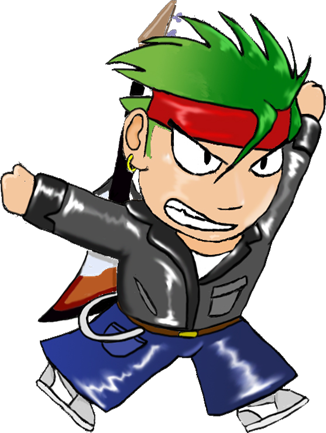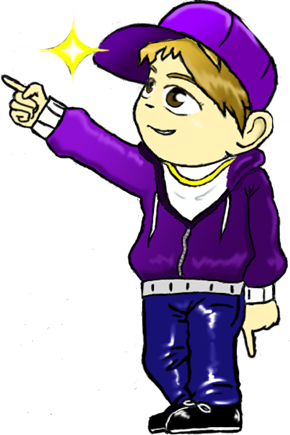 Game protagonist Beat and the antagonist pop singer Dustin Lieber. Original drawings and final touches by Henrik and digitalization and color by Anchel.
So basically the game is a platformer with rhythm elements to it, in which you have to get Beat until the end of each level without letting the music die. If you manage to time your jumps and other actions with the music, more instruments will be added to the mix, while if you fail to do so the music will become more primitive until it dies.
Here's a screenshot of the current state of the game. Of course this is still a work in progress, and in fact this is not even an actual level in the game, but a prototype test version.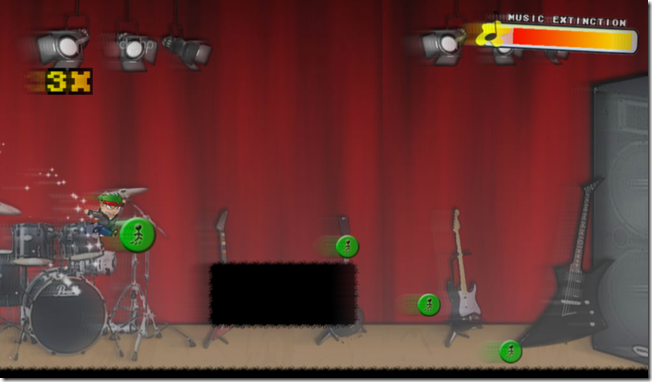 We have tons of ideas for the game, but obviously there is so much you can do in just 48 hours. And all the game engine, graphics, sound effects and music are done entirely by our group of 6 people.
You can also read the second part of this series of articles on how we created the videogame.
I'll leave you with a collection of several pictures of our progress: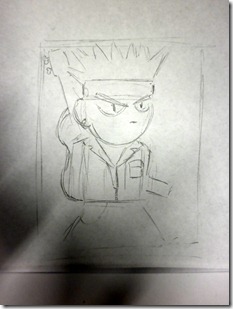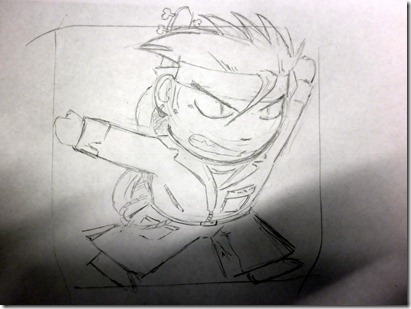 A very early version of our character Beat, and the final model that was later scanned and colored digitally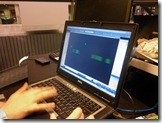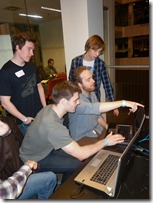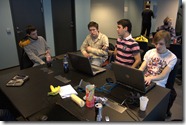 Early level designing and first prototype (which was actually a multiplayer game) – Click on the pictures to enlarge