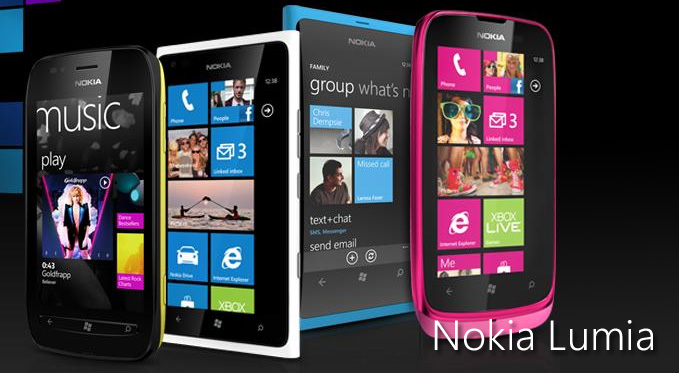 Today was quite an interesting morning that gave the first official day of the Mobile World Congress 2012 in Barcelona a nice start. And it was all because of Nokia's keynote with head honcho Stephen Elop.
Sure, the Nokia Asha line of phones is definitely a great addition for the company's line-up, but those are not my main interest considering that they are designed for the emergent market at very low price points.
But on the other hand there was the Nokia Lumia family of phones. In just a few months we've seen now a total of 4 models with different shapes and styles and each one tailored for a separate userbase: the Lumia 800 and Lumia 710 came first as both a high-range and medium-range phones respectively, then came the Lumia 900 with a bigger screen and front-camera for the US market (now heading worldwide as well) and today the Lumia 610 joins Nokia's Windows Phone 7 line.
Now though, ever since Elop announced that Nokia was jumping into the Windows Phone bandwagon because this allowed them to stand out and differentiate themselves there have been countless blog posts and comments saying that it was a stupid move and that Nokia should have either gone full-on with Meego or changed their track to Android. And I have been disagreeing with that point of view from the very first moment. Not because I think that Windows Phone is the superior platform, but because it was the most logical move for Nokia the way things were going for them.
Let's face it: when was the last time you were genuinely surprised by a Nokia phone? What happened to the company that was once the true innovator of mobile technologies and biggest camera manufacturer in the world? Many could point at the Nokia N95 as the last phone that truly wowed the world, with its innovative form factor and high-end multimedia capabilities. But ever since then their offerings have always had problems everywhere: slow performance, a horrible, outdated user interface, cheap materials…
Joining forces with Android would have only been a disaster for the Finish company, who would have to bake a really outstanding custom UI in Android in order to gather some attention into the already over-crowded Android phone market. But at the same time that would have alienated many Android users who prefer things untouched in the OS and ready to be customized by them. Either way it was a losing situation. And the fact that the entire US market was lost to Nokia only made things worse.
Enter Windows Phone, Microsoft's latest mobile operating system that has received a lot of praise for being something truly fresh and with intuitive design, though lacking in the apps department. As an OS that was starting to raise awareness among people on the streets, Nokia had the chance to spearhead the advance of the Windows Phone ecosystem by leading a space that was largely left untouched. And so it did, with incredibly positive results in pretty much every country where Nokia has started selling their new Lumia phones. It has effectively become the biggest vendor of Windows Phones, surpassing both HTC and Samsung. And it has done so by simply doing what Nokia does best: creating top-notch high quality designs, while letting Microsoft do their part on the OS.
And now look at the Lumia 610: it's bound to become the entry-level Windows Phone to look at. And as far as low-end smartphones goes, this could very well be the most interesting one of them all. Look at Android smartphones: either you take the high-end or you end up with an extremely low budget phone with cheap plastics and a horrible user experience that runs slow and has problems running every app or scrolling down a contacts list, besides having a low screen resolution that makes things look cramped in the small screen.
The Lumia 610 on the other hand represents one of the biggest advantages of the Windows Phone platform: it still runs smooth, maintains the same screen resolution as its big brothers and keeps Nokia's characteristic design aesthetics (although with a cheaper, less color-accurate screen and a plastic case). And Microsoft claims that only 5% of the current apps in the marketplace (which is now over 70.000 apps) won't work as they are right now, though a few tweaks could make them work. This keeps fragmentation up to a minimum in a phone that is under the 200€ mark. Imagine doing that with Android phones.
This will be the phone that will introduce many to the Windows Phone ecosystem, and maybe smartphones as a whole. And the fact that as an entry smartphone it still manages to run smooth and with all the style of the Metro user interface only makes things more amazing for Nokia.
And then there's the Nokia 808 PureView, the other grand announcement from Nokia at the MWC12.
Now, I'm a little bit torn on this one. Nokia has created a phone that has a 41 megapixel camera. And it runs Symbian.
What?
First the camera part: do we really need a phone with such a high photo resolution? Is it going to help anyone to keep excessively huge photos taking up space on their memory cards and slowing down the experience of scrolling through the photos? I mean, it should be clear that more megapixels doesn't necessarily have to mean better quality pictures, but rather a big host of specs that go from the lens of the camera to the software that manages it. Nokia has shown us before that they know how to make cameras so I'm not too worried about the quality of these pictures. But those 41 megapixels sound more like a marketing gimmick than a real improvement, and Nokia is risking looking like a big gimmick to its customers.
But on the other hand this camera has its advantages. With such a high resolution it is possible to perform digital zoom to high levels without compromising the quality of the final picture. Yes, I know that digital zoom is not as good as a proper optical zoom. But when you consider that including an optical zoom in a phone would immediately mean a thicker, heavier phone, this option presents itself like a nice opportunity to improve the way camera phones evolve in the future.
As for the choice of the OS… I understand that Windows Phone as it is wouldn't allow Nokia to create the necessary software adjustments needed to use this type of camera. At least not in its current version (leaks show that Apollo will allow OEMs to do a lot more with that). So Symbian was the way to go for now. I can see Nokia marketing this phone as a camera-enthusiast phone, aimed at that specific niche and not as a mainstream device, learning from it and improving what they can until they can use this new technology for their future phones, now on Microsoft's platform.
Or at least that is my hope for them.
But all in all Nokia has shown us today that they are far from dead. The upcoming release of the Nokia 900 to the US market with the help of Microsoft's push could allow the Finnish company to finally make a dent in the Android-iOS filled country where it always has had trouble establishing itself. And in Europe it can once again regain the lost market share with their cool designs that definitely make a difference in this era it almost feels like phones should always be black blocks with one button on the bottom of the screen.
Personally I'm looking forward to see the effect these new phones will have in the market as a whole. And of course I'll be waiting impatiently to play with them on my own and put them to the test.