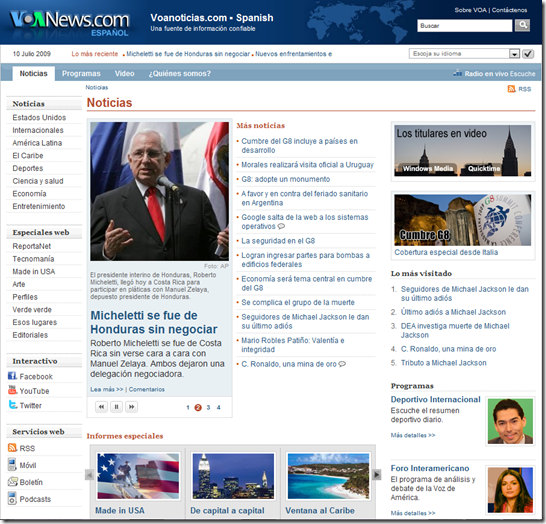 During Summer 2009 I did a three month internship at Voice of America in Washington DC, a US state-owned news media broadcasting agency with over 40 languages in radio, TV and online media.
During this period I worked on all TV, radio and Internet departments of the Spanish section in many different roles: news writer, video editor, news anchor, camera… However my main roles were those of web designer and technology columnist.
At the start of my internship the VOANews website had an old-looking website with very little graphical content and just the bare-bones basics needed for a news website to function. Along with the web IT department of the entire organization I was put in charge of testing and modifying a new design with a higher emphasis on photos, audio and video content that was to be tested first in the Spanish version of the website before being upgraded to the entire network. I was also responsible for the creation of a pipeline on how the news stories should be published, how special events should appear on the website, and how video content must be uploaded and presented on the site.
However my most important role was that of technology columnist, a role I held for over two years after my internship was finished. I had my own section on the Spanish website where I published my personal take on technology news, from reviews of phones, tablets, online services and videogames to recommendations on how to keep yourself safe from Internet scams, as well as a commentary on how important technology events and advancements would shape the future. These articles were published from Spain, the US and Denmark, with a total of over 150 articles written, many of them still searchable on VOA's website under the terms "Anchel Labena". These articles were released under public domain and as such many of them were copied and re-published on external websites with the proper attribution to the author.
Here is a just a small collection of some of the articles (in Spanish) I wrote during my period at Voice of America: