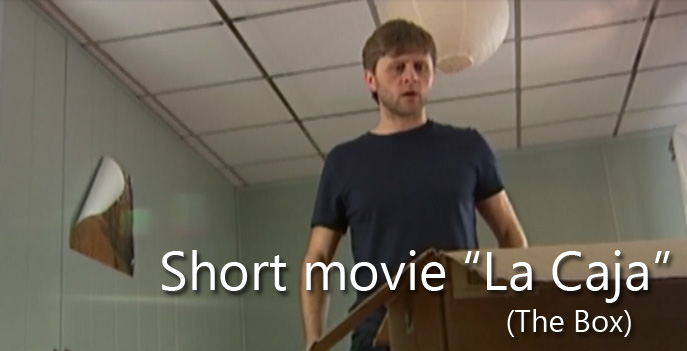 La Caja is a short movie produced and written by Anchel Labena in 2009 along with director Fernando Asensio as a project for the University of Navarra, with the collaboration of Seguros DKV, Tecnológicas Aplicadas Arroba, Viscofan and Euroview Animation. You can watch the full movie below.
Summary
"La Caja" is a light-hearted comedy that tells the story of Julio when he receives a mysterious box he was not expecting. While at first ignoring the box, he soon realizes that the small package has more to it than it initially seems, and Julio sets out to discover the wonders his new present can do. But when is a lot of a good thing too much?
Production recap
"La Caja" started as an attempt to create a short, comedic series of situations in which the main character receives a mysterious item that can make his life better but, through misuse and greed, becomes a danger for him. After several brainstorming sessions between Fernando Asensio, Lara Rivas and Anchel Labena we came up with the idea of a box with a very special property.
Pre-production started in September 2009 and, although there were several organization issues, the recording went smoothly according to the plan in October 2009. After two days of recording the production stage was closed and the project moved on to post-production in November 2009. Of special importance here was the use of sound effects and background music.
Awards
"La Caja" was nominated to 8 Kino Awards, which are given every year by the University of Navarra for the production of several short movies by the students of Audiovisual Communications. During the awards ceremony, La Caja won the Kino Awards for Best Leading Actor (awarded to David Valdevira), Best Script (awarded to Anchel Labena and Fernando Asensio) and Best Editing (awarded to María Santidrián).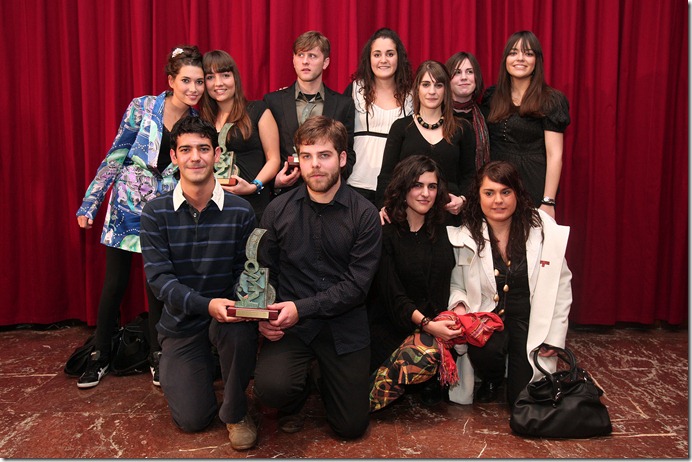 Some of the crew during the Kino Awards ceremony in February 2010
La Caja on the press
Watch the short movie
Making Of
Cast
Julio …………………..……………..……….. David Valdevira
Postman .………………………….……….. Javier Larumbe
Lady …..……………..……………………….. Puri Urretabizkaia
Crew
Script …………………………………………. Anchel Labena Navarro and Fernando Asensio
Direction ……………………………………. Fernando Asensio Carmeño
Production ………………………………… Anchel Labena Navarro
Original music ………………………….. Lorenzo Cortés and Ángel Fuertes
Direction assistant ……………………. Lara Rivas Bandera
Photography …………………………….. Blanca Muñoz Ripoll
Art direction ……………………………… Adela Ruiz Fabo
Editing ……………………………………….. María Santidrián Zurbano
Camera ……………………………………… Paula Sarmiento
Sound ………………………………………… Sara Marqués Ouviaño
Make-up and hair dressing ……. Aroa Monreal
Script ………………………………………… Ana Pérez Salvatierra
Photography assistants ………….. Sara Andueza y Celia Bustamante
Camera assistants …………………… Carmen Quintana Palacios
Sound assistants ……………………… Rebeca Blanco y Edurne Navarro
Slate ………………………………………….. Carmen Quintana Palacios
Microphone pole …………………….. Rebeca Blanco y Carolina
Catering ……………………………………. Cafeterías UNAV