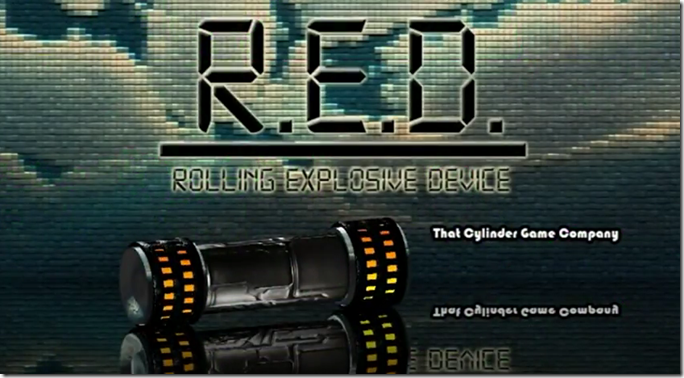 R.E.D. (which stands for Rolling Explosive Device) is a videogame developed by a group of 6 students at the IT University of Copenhagen.
It's a physics based platformer in which the player controls a very special time bomb shaped like a cylinder.
The innovative part comes in the control scheme: each wheel is controlled separately, like an RC car, making the game challenging from the very beginning, where players will have to learn a completely new way of driving. Also at their disposal is a magnetic ability that allows the cylinder to stick to the walls and ceilings, as well as prevent them from falling to the void. It is important to mention that the game is played best with a dual stick controller (it was originally designed with the Xbox 360 controller in mind).
Artistically speaking the game follows a very digital-inspired environment, with laser grids and geometric figures floating in the background.
In this project I worked as game director, art director and level designer.
The game will be made available in late May 2011. Meanwhile you can watch a trailer of the game in action:
R.E.D. Credits:
Project management: Valerio di Donato
Game direction: Anchel Labena
Art direction: Anchel Labena and Giacomo Ferronato
Level design: Anchel Labena and Carsten Larsen
Sound design: Nils Iver Holtar
Programming: Nils Iver Holtar, Jeppe Riis Henriksen and Giacomo Ferronato
Quality Assurance: Anchel Labena and Carsten Larsen