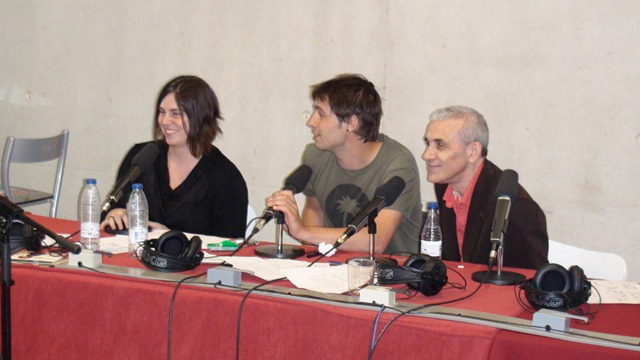 The Day of 98.3 Radio is an important date for the Communication School students at the University of Navarra. Every year the 4th grade Audiovisual Communication students have a full-day shot at managing an entire radio station on their own. The students create their own live shows, bring their own guests and take care of the news reports for more than 12 hours. It's quite an experience!
Here's a video of professor Elsa Moreno, of Radio Production, explaining what the Day of 98.3 Radio is all about (in Spanish):
There's a photo album with all the pictures from that day and you can also download a ZIP file. The pictures taken by the teachers are also included in their respective folders.
I also recorded several videos of many of the shows that were broadcast that day. The first one here is a mix of some moments of our show Flight 983, about different countries of the world. In this specific episode we focus on Mexico:
Movie fanatics also got their share on the Cinestesia show:
You can tell how nervous we all were even after walking out of the studio…
But it was still a thrill! And we had a lot of fun. You can tell from this video of the sports show "Desde las gradas":
Of course even with all the fun work is still work, and that got done pretty well:
In the evening we aired from the schools cafeteria the music show Cara B, with Santiago Echevarría and Ana Pérez, and Santiago Alcanda as a special guest:
Sara Marqués was also asking questions and interviewing those not fearful of a microphone:
Several music groups played live during the show, like The Coconuts, winners of the contest Pop Rock Cantautores 2010, Azul y Gris, Innverve, Inocua and El Señor Ramón. Andrea Giannone recorded the following videos of the concert: