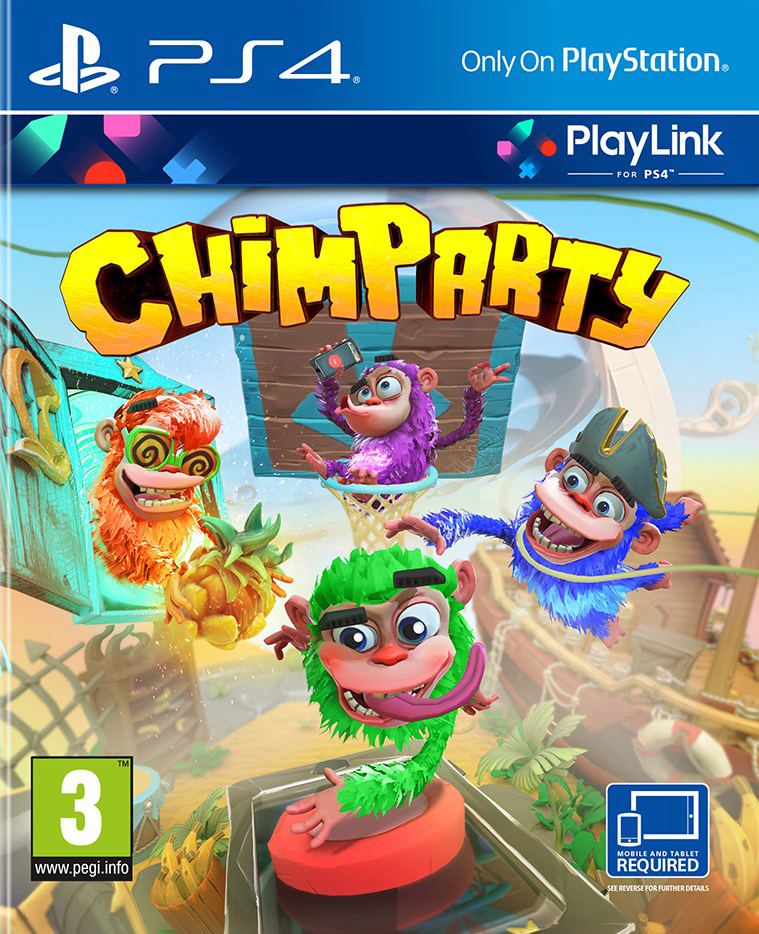 Chimparty is a PlayStation 4 exclusive game I worked on as Producer during my time at NapNok Games, together with Sony XDev.
The game was planned as a smaller production after Frantics, re-using most of the tech we had developed during that project to control the game with smartphones as part of Sony's PlayLink initiative. Our aim was to make a greater variety of games than in Frantics by having 6 different control methods, 3 minigames for each control method, and 5 levels for each of the minigames, based on different themes with recurring mechanics.
Players can customize and control their very own silly monkey as they compete to be top banana, with multiple modes and a board game format to round off the fun.
Perfect for all the family, it's easy to play together with phone-based, one-button controls. Mini-games are set in the jungle, haunted castle, pirate harbour and more sceneries, as you jump on bongos, swing on branches and collect lots of fruit.
Monkey Madness
To make an easily accessible, family-friendly game, we created a variety of game modes that work well in different situations:
FOR TWO TO FOUR PLAYERS
Board Game Mode
Reach the goal before everyone else on an immersive game board, in the quest for the ultimate banana trophy
FOR ONE PLAYER
Survival Mode
Hold on to as many stars as you can, for as long as you can, as you get some practice in the range of mini-games.
FOR ONE TO FOUR PLAYERS
Blitz Mode
Play through 10 rapidly changing random games to collect stars – the chimp with the most stars at the end wins.
FOR ONE TO FOUR PLAYERS
Custom Mode
Take your pick between all 90 levels and customize your play session, just as you like.
Minigames Galore
Take a closer look at some of the imaginative games in Frantics that turn dastardly backstabbing into playful party favours…
Treadmill Thrill
Collect as many bananas as you can on a course that is riddled with obstacles and hazards, but watch out – hitting an obstacle will cause you to fall down and lose precious time.
Wobble Volley
Outscore your rivals in this anything-goes version of volleyball. There's no referee, so feel free to jump onto the opposing team's side to cause a bit of mayhem…
Basket Head
Shoot your chimp through the basket hoop to score points in a lush jungle environment with bouncy bongos and swinging branches. Grab a coconut and slam dunk it for extra points!
Monkey Shot
Launch your chimps as far as possible across a pirate pier filled with hazards, collecting as many bananas as possible. Be sure to use handy springboards and cannons to fly further.
Monkey Sports
Buddy-up on a field for a 2v2 goal-based game, where the sport changes based on the theme of the game board. Score more points than your opposition before the timer ends.
Media gallery