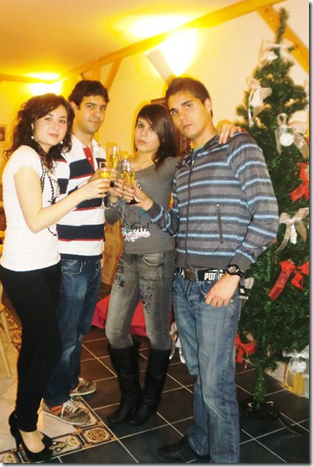 It's that time of the year again!
Champagne! Delicious meals! A never ending night!
Yes, it's the beginning of a new year! 2010 is almost finished!
From here I want to wish you all a happy new 2011.
Some of you might have already seen me either in Madrid or in my hometown Ejea, visiting old friends (like Sarah Friedman and Javier Sanz) and family (hey, it's Christmas, you gotta visit your family, right?).
Now however I'll be spending the rest of these days in Jaca (in the North of Spain, for skiing) where I'll also be doing, you guessed right, more visiting. And have fun, of course. I'm getting used to this routine of visiting, visiting and more visiting every end-of-year holidays. It comes with studying abroad I guess.
For those in Copenhagen I will be back on January 11th, getting ready for my Game Design oral exam.
Quite a busy schedule as you can see, but having fun nonetheless.
Once again, have a good start for the upcoming 2011 and make sure you keep your new year's resolutions

Oh, and thanks to my cousin Laura (on my left) for the cool cousin's picture from last Christmas Eve